Back
Integrating forests into national planning and investment for a greener economy
Integrating forests into national planning and investment for a greener economy
Côte d'Ivoire's forests have come under huge pressure in recent decades. At current rates of deforestation, the country could lose its entire forest cover by 2034, mainly due to agricultural expansion, wood extraction for energy, mining and infrastructure.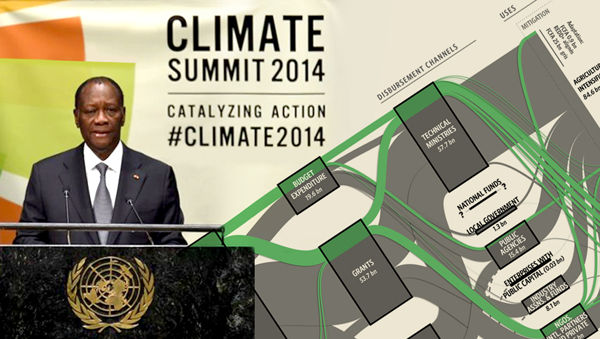 To address this rapid loss of forest area, the Government of Côte d'Ivoire has committed to increase forest cover to 20% by 2030 — in 2015 forest cover was estimated at around 11% — and to implement zero-deforestation agriculture policies. A National REDD+ Strategy drafted in 2016 synthesizes the country's vision and objectives, which also feature in the country's nationally determined contribution (NDC) under the Paris Agreement on climate change.

To achieve these objectives, the Ministry of Environment and Sustainable Development's REDD+ Permanent Secretariat decided to improve its understanding of public finance that was helping to limit deforestation and encourage sustainable land-use.

In 2016, the EU REDD Facility teamed up with Climate Policy Initiative, Impactum and the UN-REDD programme to provide this understanding. The resulting report — The Landscape of REDD+ Aligned Finance in Côte d'Ivoire — maps public international and domestic investments, in 2015, in activities that impact forest cover.

This analysis shed light on major financial gaps as well as opportunities to increase financing for sustainable land-use. It showed that current levels of investment meet only a small fraction of the expected needs for implementing REDD+ in line with Côte d'Ivoire's ambition.

The USD 28.1 million of investment that the Ivorian government and its partners contributed to achieving REDD+ objectives in 2015 is a small fraction of what is needed. For instance, the amount spent on forest restoration in 2015 was just 2% of the estimated annual sum needed to meet the 2030 target of 20% forest cover.

The analysis shows that Côte d'Ivoire and its partners could green significant shares of existing investments in agricultural intensification, some of which may contribute to deforestation and forest degradation. By greening agricultural finance from domestic, and especially international sources, Côte d'Ivoire and its partners could deliver over five times more money to implement zero-deforestation agriculture commitments.

Above all, the study shed light on the fact that forest-cover objectives have not yet been mainstreamed into Côte d'Ivoire's national and sectoral development strategies, and are not yet reflected in domestic and development partner spending priorities.

Inter-sectoral dialogue fostered during the elaboration of Côte d'Ivoire's REDD+ Strategy will need to be further enhanced in order to integrate REDD+ and NDC objectives in national planning and programming.
More information